About The Books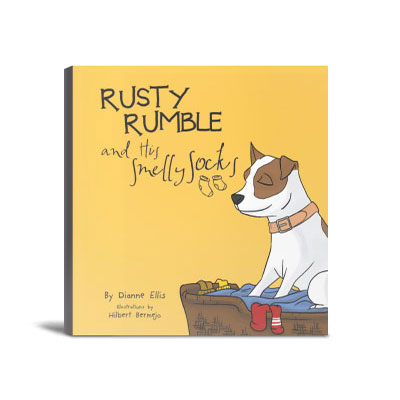 Rusty Rumble and His Smelly Socks
Rusty Rumble and His Smelly Socks captures the comical story of a dear little dog, Rusty, who waits anxiously in the dog shelter for someone to give him a good home.
The Rumble family is on a drive one day when Summer sees the sign pointing to the Dog Pound and asks her father if she could look for a little spotty dog. Summer instantly falls in love with Rusty so they take him home and give him good food, walks, bubble baths and lots of love. Rusty is in heaven.
But, on Monday morning when they all leave the house, he feels alone and sad and can't wait for their return. That night, while contentedly lying by their sweet-smelling feet, Rusty has a great idea. So, he secretly collects a smelly sock from each family member and hides them in his little bed so he'll never feel lonely again.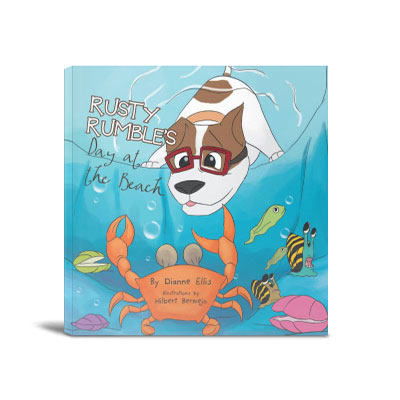 Rusty Rumble's Day at the Beach
Join Rusty and his family as they take a day trip to the beach. Experience the relaxing feel of the lovely sunny day and discover a myriad of wonderful activities that you will definitely love. Follow the adventures and misadventures of a feisty and inquisitive little dog who experiences a myriad of interesting creatures on land and in water. From a face-to-face encounter with a crab, to backing into a huge Labrador and saving his family from a shark attack, the surprises never seem to end in Rusty's beach outing.
How will the rest of the day turn out? Find out in Rusty Rumble's Day at the Beach.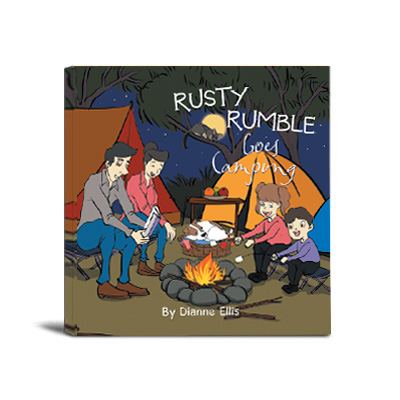 Rusty Rumble Goes Camping
As a loved member of the Rumble family, Rusty joins his family for a camping weekend. The Australian bush is full of new and wondrous smells and Rusty's curiosity soon lands him in trouble. Rusty is fascinated by his new surroundings but protecting his family is his first priority in life. In doing so, Rusty experiences close encounters with a number of bush animals such as a possum, echidna, snake, platypus, and a kangaroo, to name a few. This book shares many amusing adventures; however, the weekend proves to be very stressful and tiring for this vigilant little dog.
Rusty enjoys his weekend away but feels much safer and happier at home with his loving family.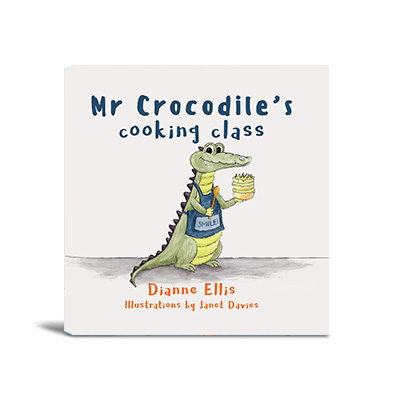 Mr Crocodile's Cooking Class
Mr Crocodile loves sponge cake and he's quite excited when Mrs Crocodile suggests he learns to cook. What a wonderful idea, he can make his own cake every day! But when he goes along to cooking classes he realises it is harder than he thinks. He burns his omelette, his scones sink, he fluffs his meringue... Mr Crocodile is ready to give up. But Mrs Crocodile encourages him to practise his cooking and before long, he wins Chef's Award for the best seaweed sponge cake. Mr Crocodile continues to cook and even discovers new recipes. A delightful story of encouragement, perseverance and having belief in yourself. Suitable for children up to 7 years.
Author: Dianne Ellis Illustrator: Janet Davies Published: December 2017 by Brolga Publishing ISBN: 9780648150817 Size: 50mm x 250mm hard cover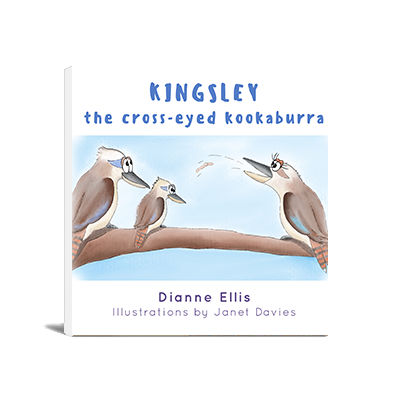 Kingsley the Cross-Eyed Kookaburra
Kingsley is born cross-eyed so flying in a straight line is a real challenge but through determination, he teaches himself to fly properly and ends up saving his brother from the clutches of an eagle. Kingsley becomes a true hero of the bush. For children up to seven years of age
Author: Dianne Ellis Illustrator: Janet Davies Published: December 2019 by Brolga Publishing ISBN: 9780648697008 (Hard cover) Size: 50mm x 250mm hard cover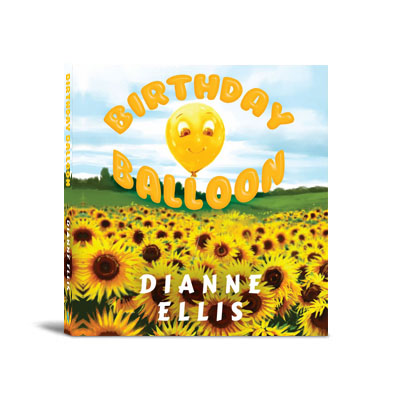 Birthday Balloon
On Rosie's fourth birthday, she receives a huge silver balloon attached to a book about rainbows from Grandpa. Rosie takes her balloon outside for a ride on her bike but its tie becomes loose and it soars high into the sky. That night, Rosie reads her rainbow book and dreams about her balloon travelling on an incredible colour-changing rainbow adventure. This story not only shows the special relationship between Rosie and her grandfather, it also displays the colours and order of the rainbow spectrum. You'll have to read this book to find out if Rosie's balloon comes back to her.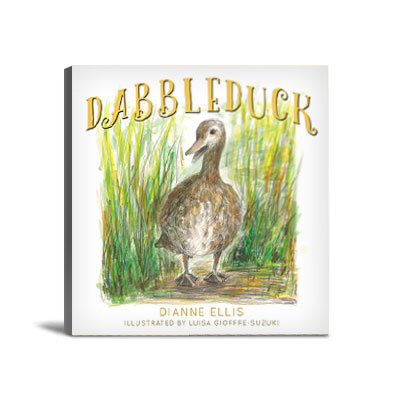 Dabbleduck
Another delightful children's story by Dianne Ellis that teaches us about friendships, respecting differences And how when we all work together, we can change the world.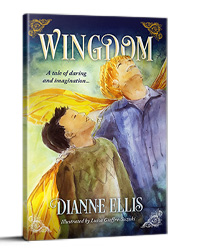 Wingdom
A chapter book targeted at children up to 10 years of age (approx. 11,000 words). At age 11, Flynn's strong beliefs in saving all creatures, including the smallest insects, often make him a target for ridicule. He befriends Jack, a new classmate who shares a love for winged creatures and who was bequeathed a tiny pair of wings from a dying moth. These wings allow Jack access into a magical kingdom called Wingdom. Jack invites Flynn to travel with him to Wingdom where they share a wondrous time flying and making new friends until some hideous giant spiders appear and entrap them. With great effort, they escape but only with the help of two brave dragonflies who send farting fireballs to the spiders. Wingdom is a special place where adventures happen and lasting friendships are formed.